Stories 47-48
Two great stories feature this week, one about our publicity day on the concourse and the other about the planning and construction of Pine Court.
Harpenden is a very competitive town for charities competing with each other for volunteers and financial donations, and the Trustees decided that we should think of ways to raise our profile and spread the word about who we are and what we do. In the past, we've been described as the 'best-kept secret in town!'
We agreed on a two-prong approach. Firstly, Rory Caseberry kindly undertook the task of redesigning our flyer, and a very impressive, colourful trifold flyer was produced. It outlined our vision and our services, and we will use this at all our future fund-raising events.
Later on in June, we hired the concourse outside the library, and set up a gazebo with table and chairs borrowed from the library.
Luckily the weather was glorious and sunny, and staff, service users and Trustees came and spent five hours chatting and explaining what we did to the many people who stopped to see us.
Many friends and acquaintances came too, and Penny Kitching met a lady who now lives in her old house! She'd recognised Penny from all the years before. It was a realty successful event, and we hope Harpenden Mencap is no Conger a well-kept secret!
- Written by Anne Hignell on behalf of The Trustees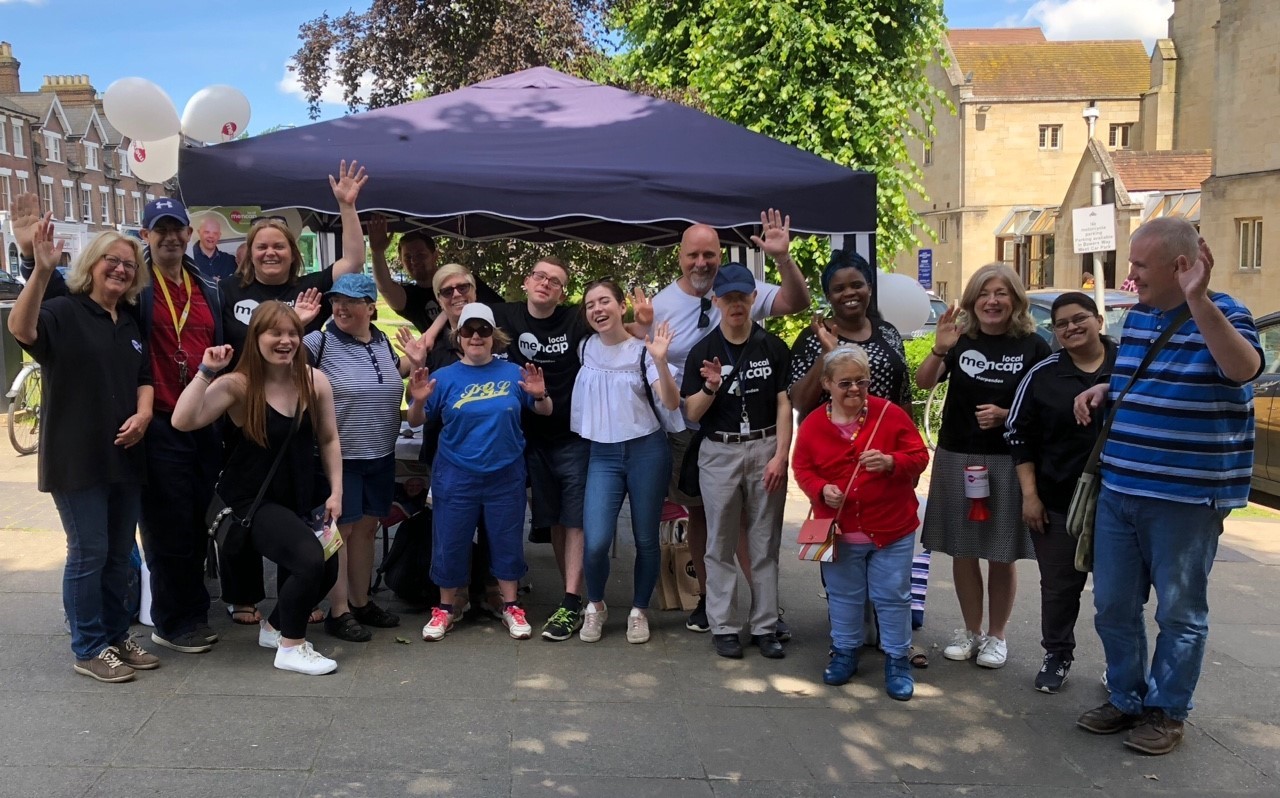 It was in 2005 that Harpenden Mencap started serious consideration on how we might modernise our accommodation at
Stairways so that we could offer our young people self-contained flats.
We did consider renovating Stairways itself but were left wondering where our service users could go whilst the work was being carried out.
Several years went by whilst we considered various plots of land, but nothing was suitable or affordable. Then, word came from 'someone in the business' of a plot of land on Carlton Road with a pair of semi-detached homes which had planning applications by developers turned down.
We went directly to the owners and said, "What about us?"
The charitable generosity of many over the years gave us the financial firepower to buy the land. The architects, Kyle Smart
Associates understood the kind of accommodation best suited to adults with special needs, They created a design to sit comfortably within the site for self-contained flats. Even so, planning approval was not a foregone conclusion particularly since Carlton Road is in a Conservation Area and the design of what is now Pine Court was strikingly modern.
Inevitably there were objections, particularly over rights to light, so the decision to give us the go ahead really was on a knife edge. It was a close-run thing.
In 2009 Planning Permission was granted and with a local builder Jarvis agreeing to build.
We now have a building designed to 'Lifetime Homes' standards which boasts sustainable credentials, high insulation, solar panels, wide corridors for wheelchairs, safety features and colour co-ordinated details which help our people find their way around the building.
Pine Court opened 2012 and its huge success is because so many of those involved in the design and work of the building understood what we needed and knew what they were doing,
- Written by Patrick Fisher