Stories 42-43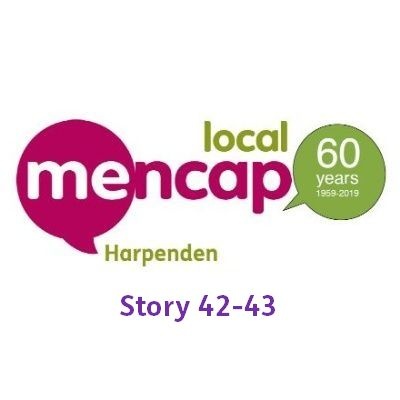 Two stories from Britannia club feature this week, looks like great fun!
I started helping out with Britannia Club around 2004 with Louise Thrift.
At that time, we were based at the Friends Meeting House in Harpenden but when Pine Court was built, we were lucky enough to be able to move there.
We had about 30 members, and we met every other Thursday evening.
We held a variety of sessions such as Games Nights, Fish & Chip Supper, Pamper Evenings, Quiz Nights, Craft Evenings, Bingo, Karaoke (my favourite!), Halloween and Christmas Parties, and Pool and Table Tennis Tournaments.
Being at Pine Court was brilliant as we were able to use the lovely garden for a BBC in the summer and games in the garden. We also started the Britannia Club Gardening Club, where we had our own little plot to grow runner beans and sunflowers.
One of my favourite memories will always be with Penny. Penny liked to help make the tea, and she had a fantastic system. Everyone had to stay on the carpeted area and not stray into the kitchen area until she was ready.
I have such fond memories of the 14 years I had at Britannia Club and have made friends for life.
Provided by Chris Overton
"Mayhem" was my answer when, as a new volunteer to the Britannia Club, I was asked for my first impressions.
A few months later, my answer is very different. The club meets fortnightly and is run by members, for members.
They are encouraged and supported by Linda and Bev, two outstanding individuals who know exactly what level of support to offer members and also how to deal with the wide range of personalities that any club has with sensitivity and tact.
A varied termly programme is put together by members, involving film evenings, fancy dress nights (you should have seen some of the Halloween outfits), quizzes, etc.
Any meeting involving food or drink is especially appreciated!! Every meeting is different, but without exception every evening is enjoyed by us all.
"Mayhem" - Definitely not!
Provided by Penny Stopp