Meet the amazing Max!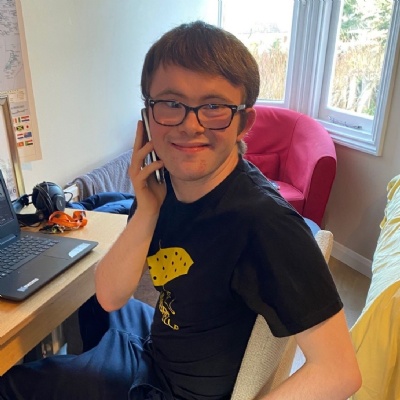 When the world changed
Max is a 25-year-old, budding actor with a love for all things' performance, especially musicals.
Max lives in one of Harpenden Mencap's supported living flats and up until early 2020, Max was taking part in several face-to-face activities per week within the local community, such as theatre workshops and singing lessons, and was attending college.
Then the Pandemic hit, and because Max is clinically vulnerable to COVID-19, due to his asthma condition, he had to start shielding.
His life as he knew it changed overnight, "I felt sad and upset" Max says, about the time he stopped attending his performing arts activities and his college course.
But little did Max know at that point, how much he would learn and excel during lockdowns with technology at his fingertips.
The start of an online life
Whilst shielding, Max continued his college course remotely, which he was close to finishing. His keyworker, Fern, was able to support him to complete his course in Skills for Working Life, Entry 3. In June 2020 Max received his course certificate from City Guilds which he has framed, sat proudly on his computer desk.
Soon after Max started shielding, the UK went into its first lockdown.
Harpenden Mencap support staff had to be incredibly flexible and responsive to the needs of all the people they support to prioritise their mental wellbeing.
Residents and tenants needed to continue to access the outside world, and this was made possible through access to online activities, which staff facilitated.
It was at this point, Max decided he wanted to spend lockdown back in his family home yet continued Skype sessions and socially distanced walks with Fern.
The show must go on!
In the meantime, Max's ambition to perform was not lost, as the groups he was involved in started to move all activities online.
Max was relieved that he was able to continue his passion, and just as importantly, see his close friends. At first it was a big learning curve for Max to get to grips with using programmes he hadn't used before, such as Zoom.
As time went on, Max was attending multiple online sessions per week with the likes of Electric Umbrella and Herts Inclusive Theatre.
"I was doing more performing during lockdown than I was before!" Max recalls, as he describes his many rehearsals leading to an online ticketed production and numerous monthly talent shows he entered, all from the comfort of his own home!
Brand new skills
As Max returned to his supported living flat with Harpenden Mencap in September 2020, using technology was still the centre of Max's life.
As another national lockdown began, Max started this one on the front foot. As his busy online activities continued, he saw the situation as an opportunity to meet goals throughout 2021 to expand his skills, one of which was wanting to learn to write emails.
Max had been learning to do this with support from staff at Harpenden Mencap and would send emails to his mum, letting her know what he had been up to. Since learning to do this independently, Max now uses this skill for his online activities.
Most impressively, Max was able to apply for a Diploma in Performing Arts with a college in London by using his newly acquired computer skills for the long application form and submission.
After a two-day audition in London and some nail-biting waiting, Max heard through email that sadly he hadn't been offered a place on this occasion.
Disappointing news for anyone, yet Max was able to pick himself up and took the initiative to reply to the college asking for feedback.
A well-deserved promotion
Through Max's hard work, enthusiasm and newly acquired skills during online performance activities, Max was appointed in an ambassador role at Electric Umbrella as Production Assistant. His independence has increased so much that he is now able to log into every session on his own and carry on the call with no support needed.
He has also been interviewed on the radio as a spokesperson about the performance group's new album release! "I love radio, I want to do more of it" Max affirms.
Independence through choice and control
Through using technology with the support of Harpenden Mencap during lockdowns, Max has been given a lifeline to not only fill his week and continue his passions, but to also gain confidence in ways he never expected and live more independently than ever.
Max reflects: "I have found the Pandemic scary and doing my online performing has taken my mind off it."
Opportunities have opened up for Max in many ways with the new normal of video calls and remote learning, but more than anything, it has shown that the limits he thought he had before simply didn't exist.
Technology is developing continually and people living with a disability have more choice and control than ever with access to devises with voice recognition, which Max also benefits from. "I can't say her name right now, or I will set her off!" Max refers to the infamous Alexa.
With your generosity, Harpenden Mencap can continue to upgrade technology for those we support and provide more opportunities for residents and tenants like Max, to nurture their talents and grow their skills in learning, leisure, and employment.